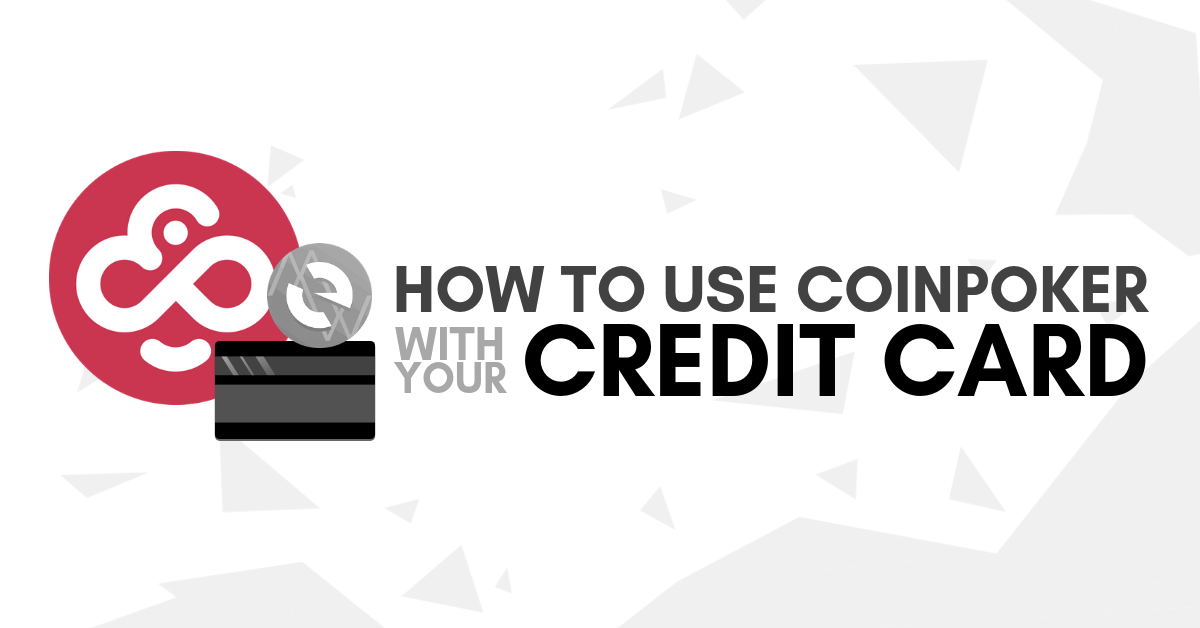 Deposits and Withdrawals
New to Crypto? How to Use CoinPoker with MEW and a Credit Card
Dealing with cryptocurrency exchanges can be challenging if you're new to it. The following guide will walk you through the simplest and easiest method of acquiring ETH, and how you can use it to verify, deposit, and withdraw funds from your CoinPoker account without an exchange.
To complete this quickest and simplest method of acquiring ETH you will need the following handy:
A wallet on MyEtherWallet (MEW)
A Credit Card (VISA or MasterCard)
Personal identification document (Passport or ID card)
This process does not require you to complete a KYC (Know Your Customer) process. However, when making the credit card purchase you will be asked to provide identification. We will explain the details of this later on.
NOTE: You only need ETH to verify your wallet, and can now use it to make transfers to and from Coinpoker.
Below you'll see the cryptocurrency options for different transactions on CoinPoker, and note that you can complete all actions using ETH tokens. Note that while you can play and sit at tables before verifying your wallet, you won't be able to move funds in or out of the account.
If you prefer, you can still use any cryptocurrency exchange to buy ETH, or get CHP from any of the exchanges listed on our homepage (here is a quick guide to getting CHP on KuCoin).
How to Use Your Credit Card to Get ETH on MEW
Step 1: Create a Wallet on MEW
Create a MEW wallet If you don't have one yet. The process requires no KYC and takes just a couple of minutes to complete. If you are having trouble you can find a thorough guide to the entire process on their website here.
WARNING: Beware of phishing scams!
Always double or triple check the URL when navigating to MEW. It should exactly as in the image below, with a padlock icon next to it. Be extra wary of small spelling errors that may be easy to miss.

As soon as you have your wallet ready you can continue to step 2.
Step 2: Use Simplex to Purchase ETH with Your Credit Card
Access your wallet and navigate to the Swap section. At first, you might notice that the Simplex option is not available. You will need to select a fiat currency under From and ETH or BTC under To.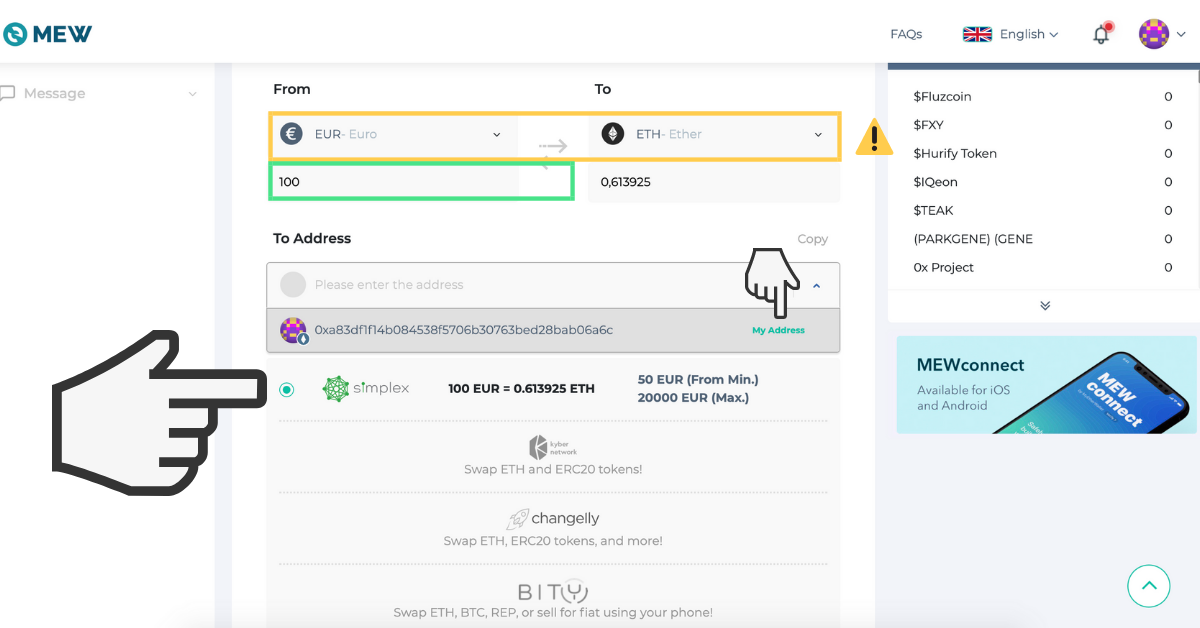 Next, you would need to confirm your purchase. Bear in mind that Simplex charges a 5% service charge.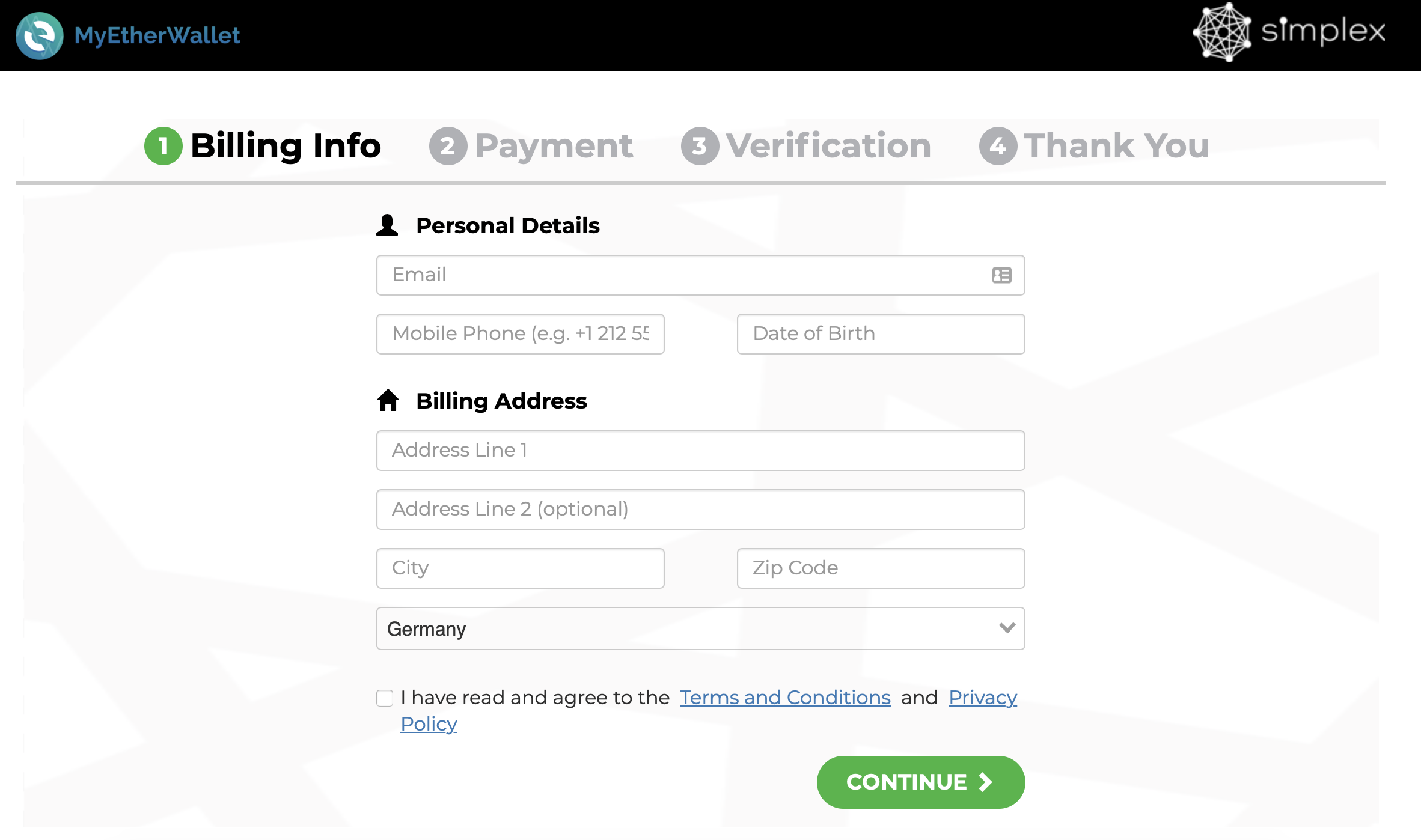 You will be asked to enter your full name, billing address, and credit card details in Steps 1 and 2. Note that the verification document requirements (Step 3 of the purchasing process) are as follows:
It is a valid government issued ID
It contains an expiry date
It contains your date of birth
It contains your name
Document and the picture should be in color
The picture should be in high quality: make sure the photo is not blurry and the lighting is bright enough
All 4 corners of the document should be visible, for example- when you open your passport you will have 2 pages in front of you. Both pages should appear in the photo
It has to be in English
The photo should be in JPG format. PDF will not be accepted
The files must be smaller than 4 MB each
Processing times are usually immediate, and according to Simplex the breakdown is as follows:
Up to 1 hour to verify your documents
Up to 4 hours to process your transaction
Step 3: Verify Your CoinPoker Account and Play
Once your ETH purchase is processed and in your MEW wallet, it's time to hit the tables. If you don't have CoinPoker setup yet, now is the time to do it. Here is a quick guide to get you started.
Once your MEW wallet is verified on CoinPoker (this means linking it to your CoinPoker account so we know where to send and take out funds) you will be able to deposit and withdraw funds in ETH.
Step 4: Withdraw ETH to Your Credit Card from MEW
Whenever you're ready to cash out, use CoinPoker's ETH Withdrawals feature to return funds back to your verified MEW wallet. Once you do, you'll be able to get it transferred back to your credit card in fiat currency in just a couple of easy steps!
Using Bity, MEW's Exit-to-Fiat feature allows wallet holders to convert and withdraw selected cryptocurrencies to fiat and send them to their credit cards. Below are the quick facts you need to know about this feature:
Available if you have an account with an IBAN (International Bank Account Number)
Cryptocurrencies you can exchange are BTC and ETH
Fiat currencies you can exchange them to are Swiss Francs and Euros
Withdrawal limit without KYC approximately $5,000
Processing time is approximately 1 working day (for SEPA transfers)
The service fee for using this feature is 0.25 EUR + 0.9% (for SEPA transfers)
For more information about how to use this feature check out MEW's Exit-to-Fiat guide. If you have any CoinPoker related questions feel free to get in touch with our support team on Telegram or by sending an email to [email protected].
Did you find this article helpfull?