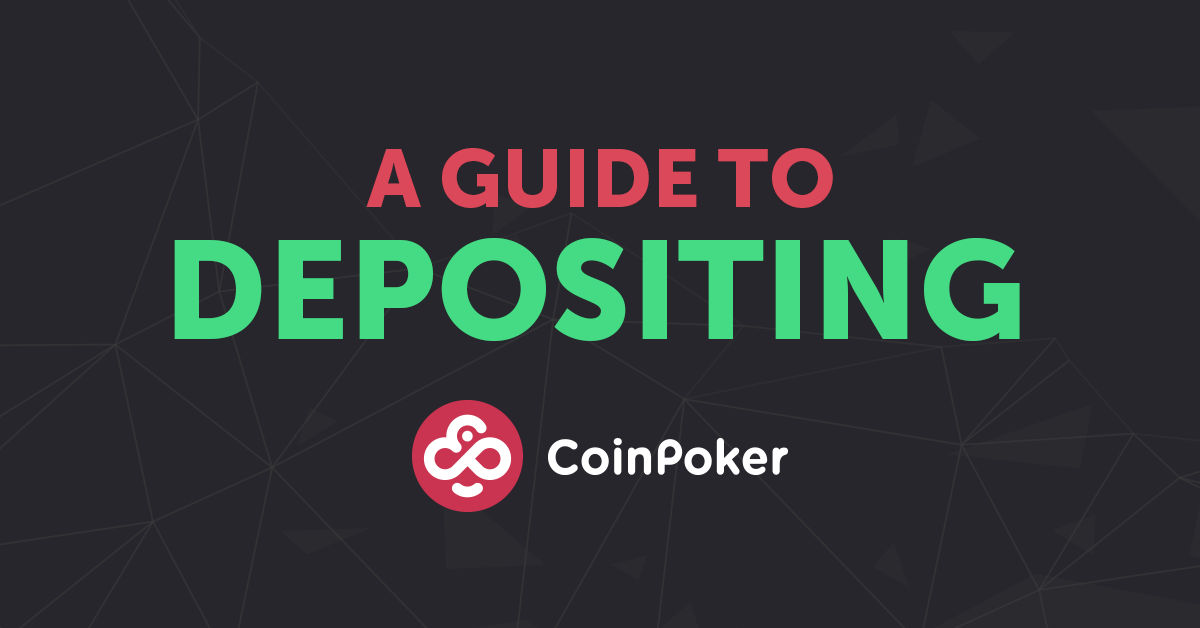 Deposits and Withdrawals
How to Deposit from Your Bank to CoinPoker
Depositing funds to your CoinPoker account takes no more than a couple of hours, and you can go from fiat funds to crypto poker in just a few simple steps:
Buy USDT, ETH or BTC using the funds on your bank account
Create a personal crypto wallet and transfer your assets to it
Deposit USDT, CHP, BTC or ETH from your personal crypto wallet to your CoinPoker account
Going Step-by-Step
This section goes over each step for making a CoinPoker deposit in detail.
Step 1: Buy USDT, ETH or BTC.
The first step of your journey to the world of blockchain is to buy crypto assets. These assets can then be traded or held to cover transaction fees. Recommended currencies are Tether (USDT), Bitcoin (BTC) or Ethereum (ETH) because of their popularity, making them the easiest assets to trade. BTC is more stable in terms of price, while ETH and USDT transactions are faster. The latter is also our ingame currency.
You can buy crypto using your credit card or bank wire at CEX, one of the most popular websites for purchasing crypto assets. Our team used a credit card to test it out and it only took 2 hours to register, deposit, and have the crypto assets appear on our balance.
Below are the most important things you need to know about buying crypto on CEX:
Deposits via Bank Transfer: FREE
Deposits with Visa or MasterCard: 3% Commission
Deposit Limit: €20 to €1,000 with Verified ID (Proof of Address up to €3,000)
Fiat to Crypto Exchange Fee: 0.25%
If you struggle with anything, get in touch with CEX support, or try one of the following alternative platforms:
Coinbase – Very popular, but the limit for instant deposits via credit card is only €35. You can do larger deposits via bank wire, however, it might take up to 3 business days.
Shakepay – This is the best option if you have Canadian bank account.
Step 2: Create a Personal Crypto Wallet
Once you purchase crypto assets with your credit card or via bank transfer, the next step is sending them to a cryptocurrency wallet. There are a few wallet options available, and below are the pros and cons of each.
Web Wallet – While these wallets are the least secure option, they are also the easiest to use. That's because they require no downloads and are free. However, storing your assets on web wallets for extended periods of time is not advised. MyEtherWallet (MEW) is our top recommendation.
Software Wallet – If you are just starting out and don't have a lot of assets to hold, or you do and can't afford a hardware wallet, a software wallet is the way to go. A software wallet stores the token addresses of most popular cryptocurrencies, so you can use one to hold many types of assets.
While these wallets are secure, they are still constantly connected to the internet. This means that, technically, it is still possible to hack them, unlike hardware wallets that stay offline. On the plus side, software wallets eliminate some of the risks that come with storing your crypto on web wallets like MEW. A couple of great software wallets are Atomic Wallet and Exodus.
Hardware Wallet – Hardware wallets are by far the most secure way to store your crypto assets. However, they come with a price tag, since this option involves buying a device much like a flash drive where you store your private keys. Despite being offline most of the time, you connect it to your computer to gain access to your wallet. Some excellent hardware wallets are made by Trezor and Ledger.
!!! MAKE SURE TO WRITE DOWN YOUR PRIVATE KEYS !!!
Without it, you will not be able to access your wallet and your funds will be lost.
Step 3: Deposit to CoinPoker
When depositing and withdrawing crypto assets to CoinPoker, you can choose to do so with USDT, ETH, BTC or CHP. When it comes to deposits, CoinPoker aims to provide real-time global conversion rate and applies no fees, but slight discrepancies are possible.
!!! DO NOT DEPOSIT TO COINPOKER STRAIGHT FROM KUCOIN OR OTHER EXCHANGES, TRANSFER FUNDS TO YOUR PERSONAL WALLET FIRST !!!
Depositing straight from exchanges will not work! All deposits and withdrawals to and from your CoinPoker account have to come from/to your personal crypto wallet (See Step 2) or your funds will be lost.
When you make your first deposit, you will be asked to enter the address of your personal wallet you will send the funds from. This wallet will then be permanently assigned to your CoinPoker account, and you will only be able to deposit from there in the future.
If you need to change your wallet address, you can do that by contacting us by email [email protected]. Our team will assist you with resetting your wallet.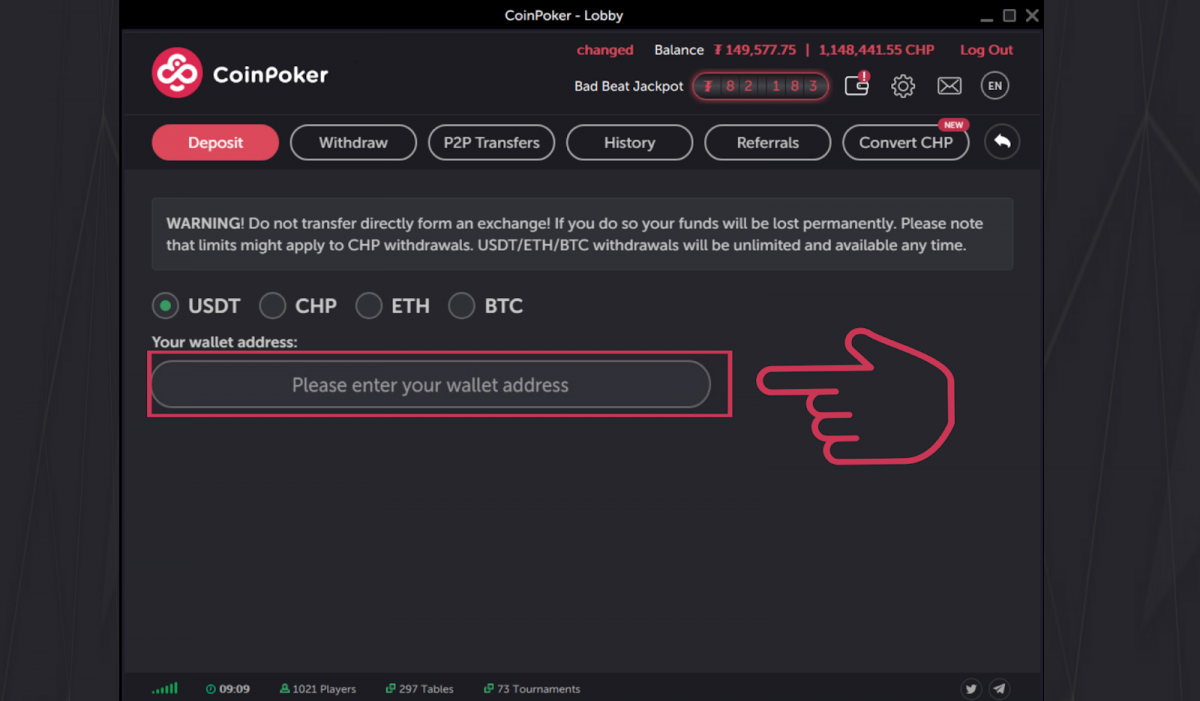 You will also be asked to enter the amount you want to send. This helps us identify which account should be credited with the deposit.
As you enter the amount and the address of your wallet, hit the "Deposit" button and it will show you the address you need to send the funds to.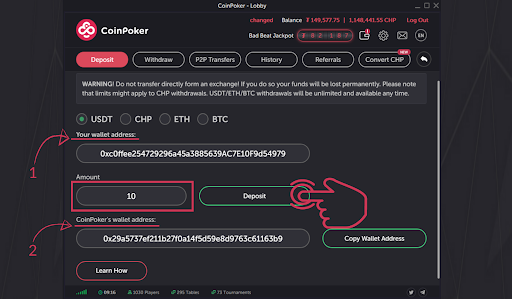 In the deposit section of the app (1) "Your Wallet Address" refers to the address of your personal crypto wallet (for example your MEW wallet, if that's what you're using) which you deposit from and withdraw to.
While (2) "Wallet Address" refers to CoinPoker's wallet address which you deposit to and withdraw from.
Having completed these steps, go to your personal wallet and send the funds. Your CoinPoker balance will be updated almost instantly if you deposit using USDT, ETH or CHP. BTC deposits might take up to several hours depending on blockchain network activity.
Before hitting the tables, why not read our Beginner's Guide to Playing Texas Hold'Em Poker or Beginner's Guide to Playing Omaha Hold'Em Poker
We are here to celebrate poker and we are throwing a party! Invite your friends and receive 30% of the fees that they pay. This is NOT a one time offer. As long as your friends keep on playing, your rewards will keep on piling up!
Have a question? Feel free to ask us anything in the comment section below or join our growing community on Telegram.
For all the latest news, follow us on social media, through Twitter, Instagram or Facebook.
Did you find this article helpfull?