AstaCP May 06, 2021
Place Your Bets: May 2021 Biggest Sports Events
May is the month of all the big decisions. Who will win the Champions League final? Who will make it into the NBA playoffs? It's a defining month for sports worldwide and you should take advantage of this on CoinPoker's sportsbook! As we predicted in our Champions League semifinal preview, the tournament we all love … Place Your Bets: May 2021 Biggest Sports Events
News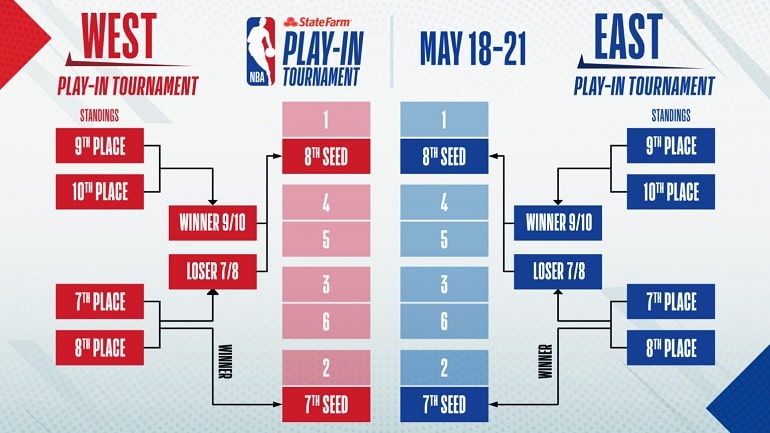 May is the month of all the big decisions. Who will win the Champions League final? Who will make it into the NBA playoffs? It's a defining month for sports worldwide and you should take advantage of this on CoinPoker's sportsbook!
As we predicted in our Champions League semifinal preview, the tournament we all love is delivering some great games. Manchester City already booked their place, where they will face another English side: Chelsea.
Meanwhile, the NBA regular season ends on the 16th of May, so the teams who want to scrap a place in the playoffs will have to sweat in the last games.
May is also an important month for tennis and golf: the PGA Championship is happening between 20 and 23 of May and the Tennis French Open starts on the following day: 24th.
Champions League Semi-Finals
The last week of April oversaw the first leg of the Champions League semi-finals, with Manchester City overpowering an unrecognizable PSG side.
The squad led by Pep Guardiola managed to confirm their first time ever in a Champions League final, by defeating the French a second time (2-0).
They will be playing against fellow English side Chelsea, who overcame Real Madrid on a combined result of 3-1. And, even before, the 2 sides will face each other in the Premier League.
The final will be played in the Ataturk Stadium, in Istambul (Turkey) on the 29th of May.
What other soccer events to look forward to in May?
Most leagues have already decided who will be crowned champions. In England, Manchester City has confirmed what we were expecting for quite a while and in Italy Inter Milan ended the 9 consecutive titles run from Juventus.
The men led by Antonio Conte won the 'Scudetto' for the first time since 2011. In the Netherlands, Ajax won the Eredivisie too.
What's left to decide? Well, the title race is still thrilling in Spain and France. Atletico are holding to their lead for 2 points, but their match in hand with Barcelona in the upcoming weekend will be a decider.
Real Madrid is also behind Atletico by two points, tied with Barcelona. Sevilla can also mathematically still win the title and their future match against Real Madrid will be decisive to know if they stay in the race for champions.
A thrilling end of the season in Spain and in neighbors France we can also see a surprise happening.
The current champions PSG might lose the title if Lille wins the last 3 games. Lille is 1 point above the Parisiens, so will they hold on to the lead?
Other Leagues To Pay Attention
In Germany barely no surprises: Bayern seems to be ready to revalidate the title, with 3 games to go. They actually can already win it next weekend if they come victorious from their fixture against Monchengladbach.
Meanwhile, in the less rated Portuguese League we might be seeing history happening. For the first time in 20 years the champion of the league is unlikely to be Porto or Benfica.
Sporting CP is 6 points ahead with 3 matches to go and if Porto loses any more points they will be even closer. Plus, Sporting hasn't lost any game so far: they are unbeatable with 27 wins, 7 draws, and 0 losses.
Definitely, an underdog league to pay a close eye to (remember some current EPL stars like Ruben Dias and Bruno Fernandes came from here).
Check out the full calendar for May's sporting events:
Date
Competition
Event
4-May
Champions League Semi-Final
Manchester City – PSG
5-May
Champions League Semi-Final
Chelsea – Real Madrid
6-May
Europa League Semi-Final
Roma-Manchester United
6-May
Europa League Semi-Final
Arsenal – Villarreal
6-May
Portuguese League
FC Porto – Benfica
8-May
Premier League
Manchester City – Chelsea
8-May
La Liga
Barcelona – Atletico
9-May
La Liga
Real Madrid – Sevilla
11-May
Premier League
Manchester Utd – Leicester
12-May
Premier League
Chelsea – Arsenal
15-May
FA Cup Final
Chelsea – Leicester City
15-May
Portuguese League
Benfica – Sporting CP
23-May
Premier League
Last Matchday
23-May
La Liga
Last Matchday
26-May
Europa League Final
To Be Decided
29-May
Champions League Final
Chelsea – Manchester City
31-May
Under 21 Euro 2021 Quarter-Finals
Netherlands – France
Denmark – Germany
Spain – Croatia
Portugal – Italy
What not to miss on the basketball calendar?
The Euroleague regular season wrapped up last month and the playoffs took place between 20th of April and 5th of May.
Barcelona overcame Zenit in 5 games, losing the 1st and 4th match. They will play Italian side Olimpia Milano in the Final Four. Milano defeated Bayern Munich also on 5 games.
Meanwhile, CSKA Moscow lines up as the favorite for the final four after taking only 3 games to defeat Fenerbahçe. The Russians were quick to eliminate the Turkish and will have in their side an added rest, since they didn't have to play 2 extra games.
They will be facing another Turkish team, Analodu Efes, in the Final Four. Analodu defeated Real Madrid in the playoff in 5 games.
The Final Four will be played in the Lanxess Arena, Cologne, Germany, between the 28th and 30th of May.
What about the NBA season?
The regular season of NBA wraps up on the 16th of May and there are still some teams hoping for a last glimpse of luck to catch a playoff spot.
Right now a few teams already clinched playoff places. The Utah Jazz were the first ones, on April 25th and fans are hoping to see if they can bring the same form into the playoffs.
The Philadelphia 76ers, Brooklyn Nets, Milwaukee Bucks, Phoenix Suns, Denver Nuggets and LA Clippers also booked their place.
This season there will also be a Play-In Tournament, taking place from May 18th to May 21st. The teams ranked 7th to 10th in each conference will play each other, with 4 playoff seeds resulting from this.
Check out how it will work on the FAQ page of NBA.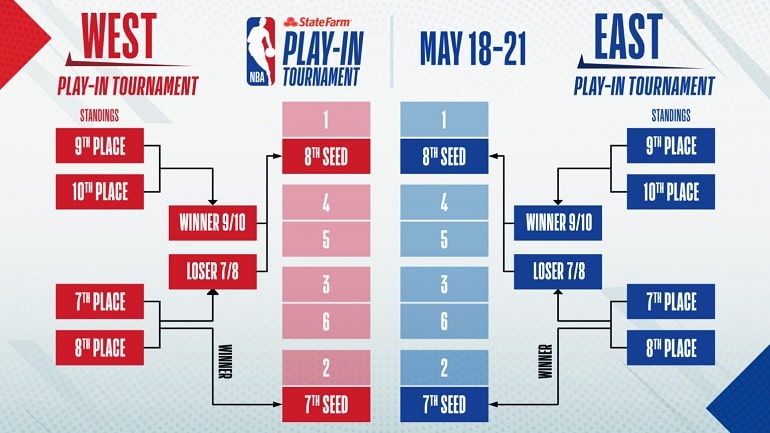 Check out the complete May's basketball calendar:
Date
Tournament
Event
6-May
NBA Regular Season
Clippers – Lakers
8-May
NBA Regular Season
Bulls – Celtics
16-May
NBA Regular Season
Last Matchday
18-May
NBA Play-In Tournament
Games to Be Decided
19-May
NBA Play-In Tournament
Games to Be Decided
21-May
NBA Play-In Tournament
Final Play-Off Seed Matches
22-May
NBA Play-Offs
First Games
28-May
EuroLeague Final Four SemiFinals
Barcelona x Olimpia Milano
CSKA Moscow x Analodu Efes
30-May
EuroLeague Final
To Be Decided
A Big Month For Tennis
May is also an important month if you follow the ATP tournament and the Grand Slams. The Madrid Open is wrapping up on the 9th of May and in that same day the Italian Open starts.
Then on the 16th it's time for the Geneva and Lyon Opens. All this before the big main event, the French Open, one of the 4 Grand Slams, that happens as usual in the Roland Garros.
Currently the champions of the tournament are Rafael Nadal in Men's Singles and Iga Swiatek in Women's Singles.
The biggest absence in the tournament will be Nick Kyrgios, snubbing the tournament once again. He is the only men's player from the top-100 ATP ranking that won't feature in the tournament.
Nadal is obviously the number 1 favorite, followed by Djokovic, Dominic Thiem and Stefano Tsitsipas.
In the Women's Simona Halep is the leading favorite in the odds, followed by current champion Iga Swiatek. ATP number 1 women's ranked player Ashleigh Barthy is the third favorite in the odds and on 11/1 is Garbiñe Muguruza.
Check out the full calendar for tennis this month:
| | | |
| --- | --- | --- |
| Date | Tournament | Event |
| 9 May | Madrid Open Finals | To Be Decided |
| 9-May | Italian Open | Start of the Tournament |
| 16-May | Italian Open | Men's and Women's Singles Finals |
| 16-22 May | Geneva Open | To Be Decided |
| 16-22 May | Lyon Open | To Be Decided |
| 30-May | French Open | Grand Slam Event – First Matches |
Other Important Sports Events in May
If you are a keen follower of golf, you should be thrilled with the upcoming PGA Championship this month. The competition starts on the 20th of May and lasts 3 days.
The Championship will take place in the Ocean Course in Kiawah Island, South Carolina (US).
Currently, the leading favorites for winning the Championship are Dustin Johnson, Jon Rahm, Justin Thomas, and Bryson Dechambeau.
Last year's winner Collin Morikawa is still 27/1 and a bit lower in the odds, but it's still a name to keep under your radar.
Also, pay attention to the upcoming F1 calendar events. Lewis Hamilton won the last GP in Portugal, overcoming Max Verstappen and Mercedes teammate Valteri Bottas.
Next stop is Spain, that will be happening between 7 and 9 of May in Montmeló (Catalonia). Then, also in May, the GP of Monaco takes action between the 20th and 23rd.
Current champion Lewis Hamilton tops the leaderboard with 69 points right now, followed by Verstappen from Red Bull with 61. Lando Norris closes the podium, with the pilot of McLaren summing only 37 points so far.
Bet On CoinPoker's Sportsbook
These are the main sport highlights of the month of May, but there is so much more going on! Check out CoinPoker's sportsbook. to find a complete list of sports events, from eSports to Rugby.
You can also bet on Eurovision, which is happening between Tuesday 18th of May and Saturday 22nd of May. It's not a sports competition, but this music festival is very popular among bettors.
For all the latest news, follow us on social media,
through Twitter, Instagram or Facebook.