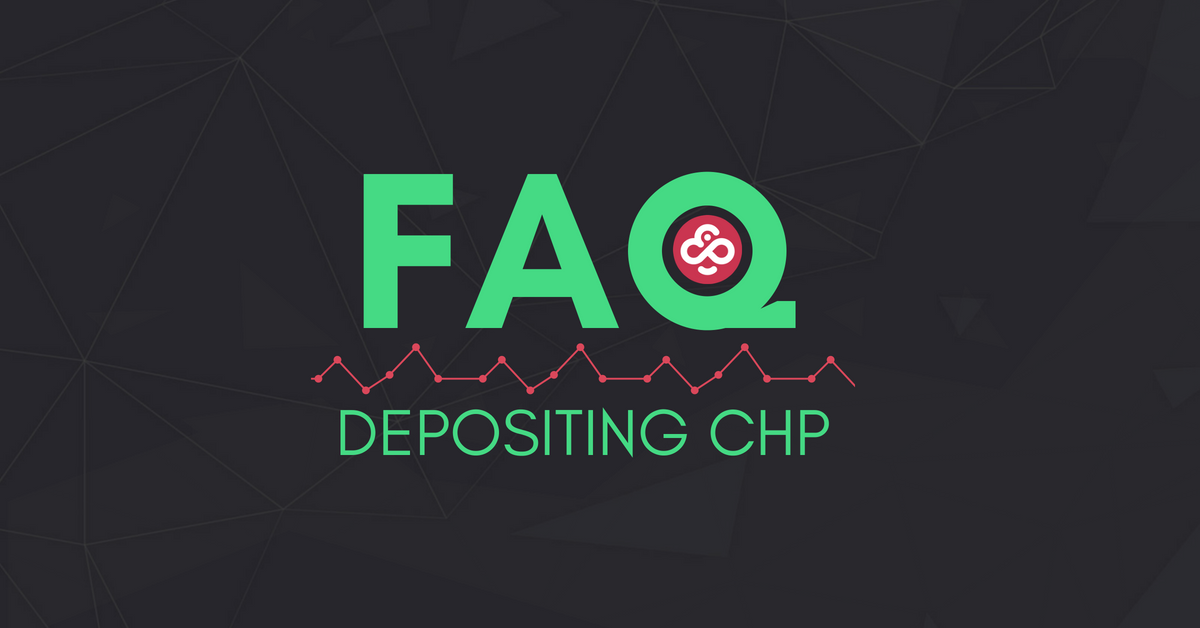 Deposits and Withdrawals
[FAQ] How Do I Send CHP Tokens to My CoinPoker Account?
For someone a little less familiar with cryptocurrency transfers and transactions, your first CoinPoker deposit may be a little tricky. To help you out, we've outlined the steps you need to take to do this easily and securely.
Note that if you do not hold CHP tokens and prefer using more common cryptocurrencies, you can also deposit to CoinPoker in BTC or ETH. Below are a couple of links that will show you how to do that:
If you still want to buy CHP tokens you'll find all the steps you need to do that outlined below.
Step #1: Find CHP Tokens on Your Preferred Exchange
The list of exchanges that list CHP continues to grow, and you can purchase the tokens with Ethereum (ETH) or Bitcoin (BTC) on the following platforms:
One important thing to note is that none of these exchanges allow you to purchase ETH or BTC using fiat currency, meaning that unless you already own cryptocurrency you need to acquire it elsewhere. Some options for exchanges where you can purchase cryptocurrency using a credit card are Coinbase and Kraken.
Step #2: Purchase CHP Tokens
For most sites the action is the same: search the coin listings for CHP and hit purchase. Note that you do need to buy ETH or BTC first, and once you have them they need to be transferred to your selected exchange before buying CHP.
If you need help getting an account at any of these exchanges, make sure you get in touch with their support teams or do a quick YouTube search for "How to purchase BTC/ETH on…". There are plenty of resources out there thanks to a super active and growing crypto community of content creators.
Step #3: Set Up an ERC-20 Wallet (If You Haven't Already Done So)
CHP tokens are an ERC-20 token, which means that they work with Ethereum Smart Contracts and can only be held in compatible wallets. If you're new this may be a lot of to wrap your head around, which is why we split up all the details into two guides:
Once you go through these you will not only understand how CHP works, but you'll be able to choose the safest and most convenient wallet for your tokens (CHP included!).
Step #4: Add CHP Tokens as a Custom Token
Altcoins and assets like CHP need to be added to your wallet before you can view them. This applies to online clients like MyEtherWallet (MEW) and hardware wallets that link to it. In order to do this you need to follow the instructions below: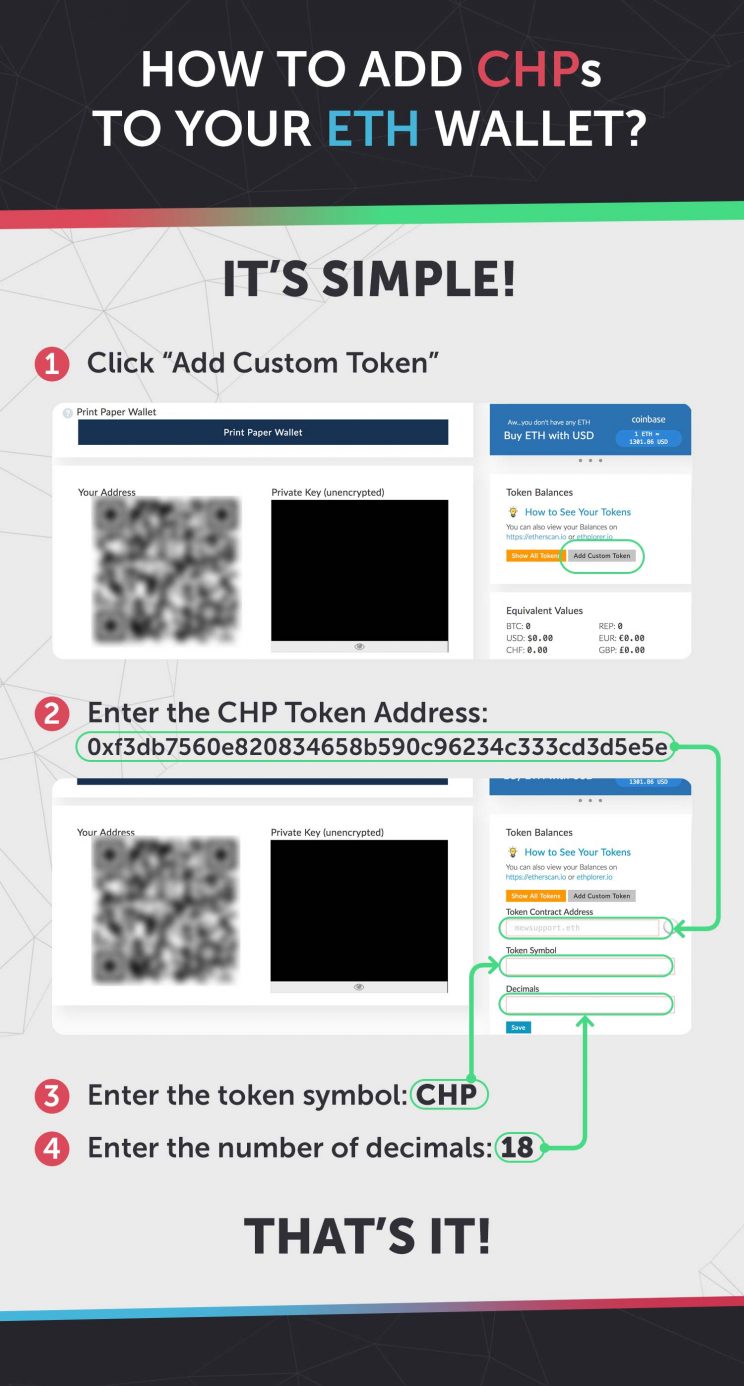 Step #5: Transfer CHP from the Exchange to Your Crypto Wallet
VERY IMPORTANT: DO NOT DEPOSIT TO COINPOKER FROM AN EXCHANGE!
Never transfer CHP tokens directly from an exchange to your CoinPoker account. This is because exchanges hold the funds of all their users in a collective wallet address, and when you do this it is impossible to know who or where the deposit is coming from.
You need to transfer the tokens to your ERC-20 wallet first, which should then be confirmed on your CoinPoker account which we will get into next.
Step #6: Make a First Deposit To Confirm Your Wallet
The wallet address you use for your first-time ETH or CHP deposit will be confirmed linked to your account. To do this, carefully enter your address in the field as shown below and select the amount of ETH or CHP you want to send to your account.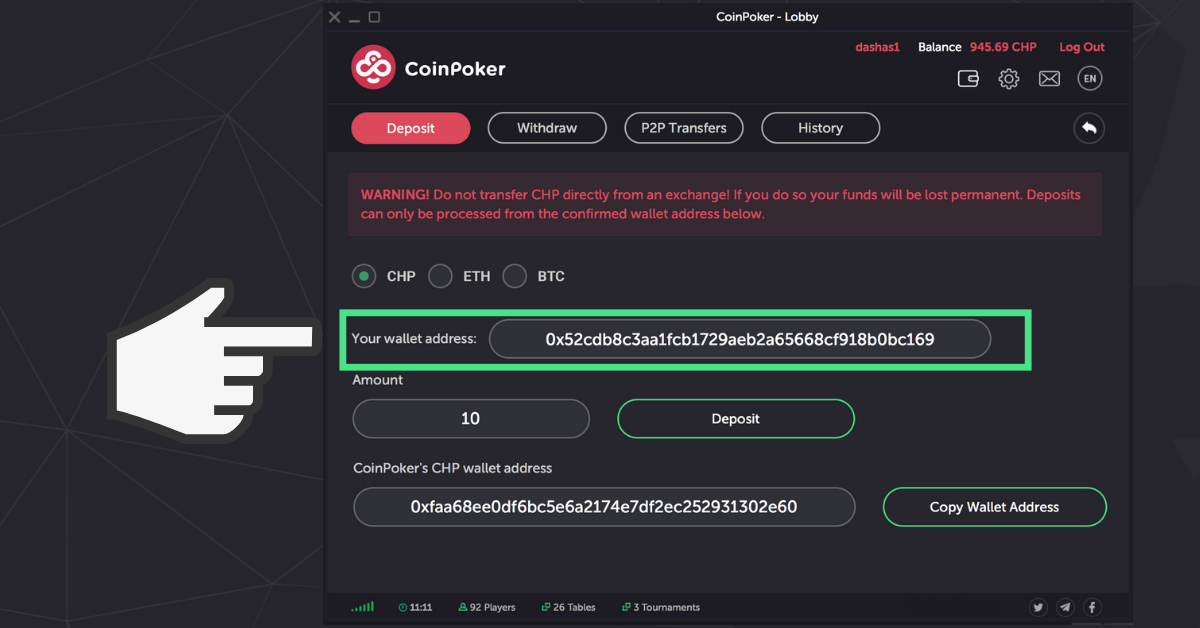 Once you make that first deposit, your wallet address will turn green. This means that it is verified and linked to your CoinPoker account and you won't need to manually enter it anymore when making future deposits.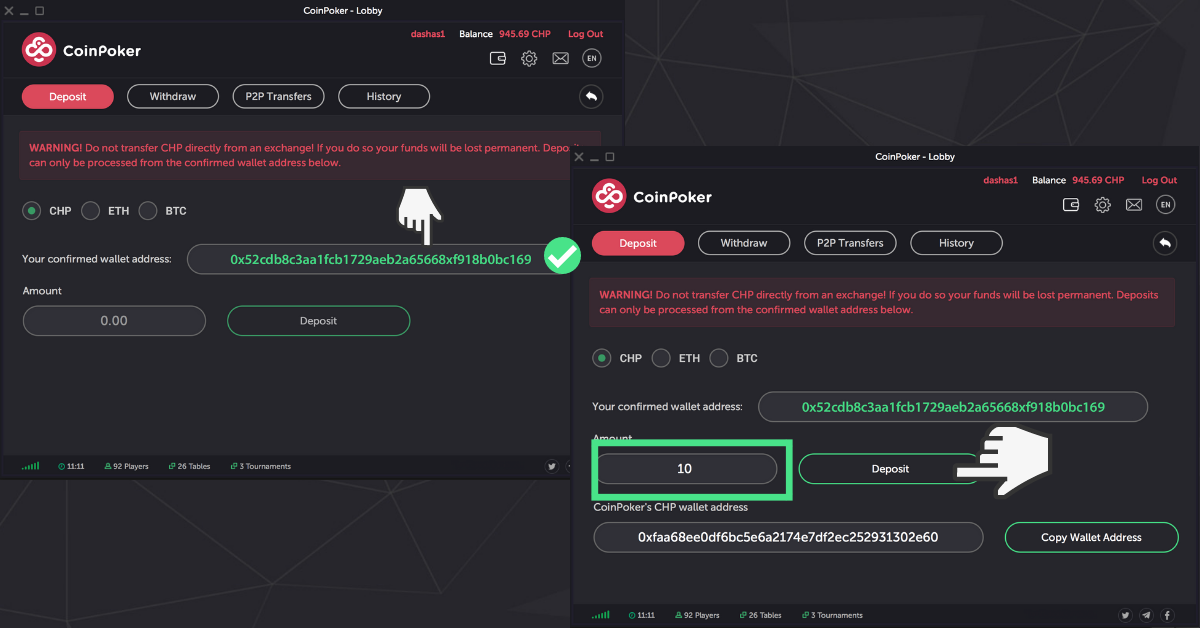 If you happen to change your wallet or want a new one, you can send an email to [email protected] and we will amend it for you. BTC deposits will work a little differently, which we'll explain next.
Step #7: Transfer CHP from Your Verified Wallet to Your Account and Play!
All that's left is completing the transfer to your CoinPoker wallet address, and depending on the speed of the Ethereum network your deposit will be credited and you can start hitting the tables!
Here's how you do it on MyEtherWallet:
Go to the "Send Ether & Tokens" tab and access your wallet using one of the recommended methods. You can of course use the non-recommended options but note that these are less secure (here's why).
Still Struggling? Our Support Team is Always Ready to Lend a Hand
If any of these steps are confusing, or if you experience any issues while completing your CHP deposits on CoinPoker please get in touch with our support team. You can do this on our official Telegram channel, or by sending an email with the following details to [email protected].
Your CoinPoker username
A brief summary of the issue you're dealing with
In the case of deposit or withdrawal problems, please include a link to the Etherscan transaction (NOT A SCREENSHOT)
Did you find this article helpfull?